Personification responsibility of every worker responsible for one or another area of technological operation, one hundred percent entrance control of materials and stuff details, expedient-delivery trials of every good, collective, incorporated a single purpose to produce a high-quality and claimed a market product, confirm the high image of company and work for you.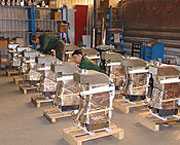 Created in Zmiev of the Kharkov area in 1991 plant "Majak", person of the same age of Ukrainian independence, is one of leading domestic producers of domestic heating technique.
Today Mayak it is a stable company with the developed technological base, by the high level of professionalism in the field of development and production of equipment for the off-line systems of heating and hot water-supply. The specialists of Majak constantly work above the increase of requirements in relation to safety, economy of power mediums, and also defence of environment.
Stable growth of production resulted in creation 30 regional representative offices are in Ukraine. Among the large variety of heatings devices at the market of Ukraine the products of company pay attention on itself by high quality and modern design users.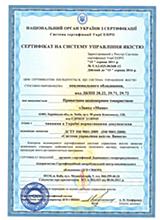 High-efficiency boilers of company "Majak" intended for heat purshase of individual dwelling-houses, apartments, administrative and production objects, equipped the systems of the aquatic heating with natural or forced circulation of heat carrier.
Our heatings boilers, notedly differ high techical-econom indexes, blameless quality, by optimum correlation "price-efficiency-quality", by simplicity in editing and service, by reliability in-process. All products are certificated in the system of UKRSEPRO and marked the diplomas of the State committee on an energy-savings and group of Tasis.
We do not decide on attained, constantly working above the improvement of the wares, update and expansion of assortment.
Choosing a brand Mayak, you choose reliability, warmly and comfort.